It's Prize Time!

AUTUMN DAILY GIVEAWAYS HAS NOW FINISHED
But don't forget to check out the Dream Car Competition this week as we're giving you the chance to win a Supercar... or a car with £100,000 cash in the boot!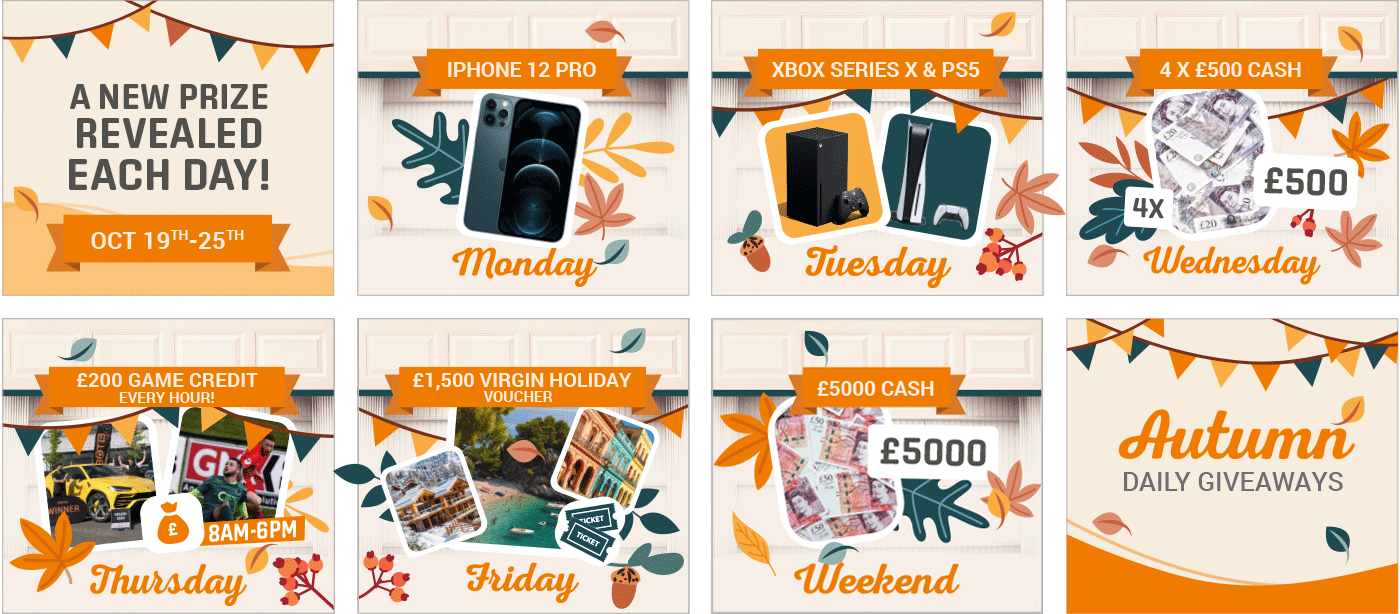 Day Entered
Prize
Winners
Monday 19th October 
iPhone 12 Pro
Morgan Gray
Tuesday 20th October
Two prizes - an Xbox Series X and a PS5

Mark Warrilow and

Fabricio Santos

Wednesday 21st October
Four £500 cash prizes 

Hashim Elmousaad

 

Brian Shayle  

 

Gavin Punfield

 

Xhevair Tota  

Thursday 22nd October 

Win £200 game credit every hour between 8am and 6pm.

8am - 1pm Hourly Winners: Marc McGarrity, Donald Large, Marcel Boerger, Sarah Afolabi, Ruth Smith.

 

1pm - 6pm Hourly Winners: John Franklin, Yonis Yusuf, Daniel Goshawk, Shaheen Miah, Ruby Zara

 

Friday 23rd October 
£1,500 Virgin holiday voucher. 

Alexander Davies

Saturday 24th and Sunday 25th October 
£5,000 Cash

Stanley Nelson
TERMS & CONDITIONS
Everyone who enters the BOTB Dream Car competition or Midweek Car competition from 6pm on Friday 23rd October 2020 until midnight on Sunday 25th October 2020 will be entered into the draw to win £5,000 cash. Every ticket purchased gets an entry into the draw. Supercharged free tickets also eligible. At the end of the stated time period the winner will be chosen using a random number generator. The winner will be individually contacted using the email address on their BOTB account and will be announced on this page and on the BOTB Social Media channels at the time specified on the page. Each winner must confirm acceptance of their prize within a week of being declared the winner otherwise the prize will be forfeited and awarded to the next selected entrant. BOTB does not accept any responsibility for any damage, loss, injury, death or disappointment as a result of accepting the prize. BOTB reserves the right to amend these terms and conditions at any time.